Posted on July 26, 2011 under
Employee Assessment Process
.
Problem #5:  Many, if not most, managers haven't received adequate guidance on how to minimize preventable turnover regarding CURRENT EMPLOYEES who do match the demands of the job.  Employee potential is limited and staff gets driven away because managers don't  understand causes of conflict, recognize performance obstacles, or know what to do about them.
Solution #5:  Employment testing that makes it possible to evaluate and correct poor relationships between employees and their managers is readily available and can actually be administered  at no cost to the employer.
Problem #6:  Most companies lack a complete inventory of their human capital when internal openings occur.  This results in a situation where current employees who match job openings perfectly get overlooked because their talents are not identifiable or manageable in a data driven system.
Solution #6:  an Online employment testing system that helps identify and manage talent in a way that turns your human resource information into a corporate asset so this won't happen to your deserving employees.
Problem #7:  Many companies who actually do know how to compare an applicant to the job do not have the ability to match the applicant with their likely supervisor  -  big mistake.
Solution #7:  the Team Master report comparing the key behavioural characteristics of supervisors and their direct reports can have huge implications on employee performance, employee retention,and the elimination of 'drama'.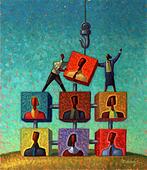 Remember, the goal of  any good employee assessment tool is to help you identify what key jobs require in terms of SPECIFIC attitudes, behaviors, and values and then teaches you how to match the right people to them.  With the right tools, you can assess groups of top performers and get specific data identifying 'what it takes' for a person to fit in any position in your company.
To learn more about one assessment tool that I have come to rely on extensively in my business, visit  www.thehiringsuite.com or just contact me directly.
As always, thanks for being here, make it a great week and pay it forward.
Comments (0)